A Big City Never Sleeps
Well, for some people around here this is the 'big city'. Most of the folks grew up on the farm or were closely associated to the farm and country life in general but good roads, school, hospital and business amalgamation and new oil and gas workers from 'away' have meant that some communities have died while others busted their banks. Pearson and Hudson's Mills were fortunate to be among the winners. Their names survive.
Walking through these towns at night is testimony to the change. They don't roll up the streets at seven o'clock any more. People are working and those that aren't are out and about making the most of a warm late summers evening.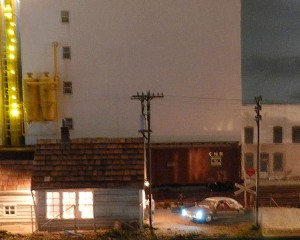 The grain terminal at Hudson's towers above all else for a range of nearly 40 miles. It peeks over the horizon like some new white sun as you approach from the east in the early morning and it rises above the bushes and hedge rows long before you can see the first sign of the urban life all around it. A giant yellow M shatters the illusion.
Parts of a quieter past remain though. The small, wood framed workshop was put there 30 years ago after a massive blizzard shut down power distribution in the area and no one could get the backup power on at 40 below.
---
Nighttime in the city is not like it used to be when the streets were dusty and owners and their employees alike were to be found at home for a supper and then an evening of Dragnet or Father Know Best.
Today, dinner is when it's served and it will be served, for the most part, when folks get a break from work. If you're not eating a fast food in you're taking a fast food out or shopping at night for food to take home for tomorrow. A rush of anxiety come from that but there are gifts to be appreciated if your mind is open.
Many of you're A&W eating partners are not from your little town at all. They have experienced things you can only dream of – if you dared to dream. If you dared to ask them.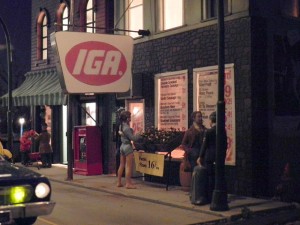 Size is relative I guess. Both Hudson's and Pearson are 'tweener' kind'a places. Large enough to support longer shopping hours and nice amenities like a high school, a small hospital, great parks and pretty good selection of shops and stores and even a regional library but small enough still to have avoided the inrush of big box stores. When you shop in Pearson you know the name of your pharmacist and the guy who sells you your tires.
A town that size is traditionally conservative at odds with itself and a younger generation who has seen the world and knows a thing or two. Change is inevitable and often noisy.
---
Of course there are people who have always been on duty every hour of the day. A whole segment of any population sees they kids only as they sleep or, after a number of days of shift work, are too much 'off the clock' to do much but sleep. There are fire crews, ambulance attendants, the RCMP, all those hospital workers and even the kid down at the all night pizza.
Down on Home Street there are three guys and a girl who practically live up in PSN tower. They manage all the Winter Valley, and some Canadian National traffic between, Hudson's Mills, Pearson and Fox Creek. Again a 'tweener'. Too much traffic to tear it down and not enough to have it all computerized.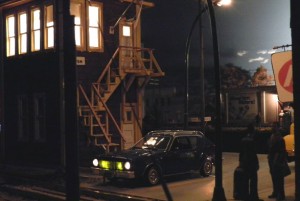 This flight of stairs has become so much a part of the Home St scene that it would be a shame to loose them. The small piece of property the tower sits on is of no value on it's own so should the tower ever be torn down the lot would be empty and lifeless for a long time. I would campaign to have it turned into a community museum on the ground floor and a railway museum on the second. What a great place to watch trains. Wow!
But for the present the tower still attracts kids at Halloween and the guys still do it up nice at Christmas and play music from the speakers under the roof. Good for them.
---
Even in those hard to see corners of the warehouse district, the place where people don't go if their afraid of the dark, there is real activity as men work 'less than carload' shipments. They are still pretty much the norm here still. Long, heavy trains of single product cars may be all you can see out on the CN or CP main line but the roads up here still can't beat the rails for reliable, all weather delivery.
Unseen in this photo are the reporting marks of Pacific Great Eastern boxcar 4018 built way back in 1947 and still doing chores for it's owners. How long this old car will retain its old logo is uncertain as it's likely to be retired before being painted up in the flashy new green of the British Columbia Railway. For now though, a shipment of fridges and stoves has found a temporary home at a local kitchen appliance store.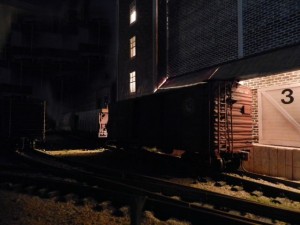 I don't recommend wandering around back here in the dark. An unsure step will easily break a leg and where would you be then. No. Your not going to be run over by a speeding train in this yard but unless you made your way out onto the street help would wait until morning that's for sure.
I played in rail yards like this when I was a kid and no one thought anything of it. Parents were far more concerned about the creosote on shoes and shirts than on life and limb. My dog McLeod put black foot prints on the back seat of Dads old Chevy and they never came out.
---
Some time ago I wrote about a magic weekend I shared here on the beach at Pearson and every trip down this way brings back memories I cherish. It doesn't matter that nothing ever came of the friendship but that's unimportant in the bigger picture. It was a wonderful moment in time and it's mine.
Now, as I carry this camera around with me again, it's September once more and people are enjoying those same pleasures that come from warmer water and cooler evenings. No single shock to the system as you jump right in or a nervous kind of hesitation as the water reaches your waist. Just wonder in, dive out and turn to sit quietly on the clean sandy bottom watching the lights and the people in the park. Excellent!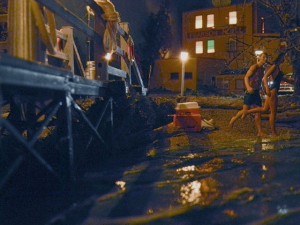 The hotel had a lot to do with building this park and this beach. There was water here when the weir was built nearly 100 years ago but it was used to drive the mill in Hudson, a smaller community that was really just a suburb of Pearson before suburbs were even heard of. Filled with rocks and covered with cattails and rotting logs, it lay semi stagnant until leadership stepped in.
A hotel with no guests and a prairie town on the edge of death put heads and a little money together and with the leadership in place built a wonderful and lasting resource that will outlast us all.
---
The beating heart of Pearson is the station. Just as it has been for a century. As decades came and went, as railways changed their names, as the country went off to war and came home again, and again, the station in Pearson has stood at the center of it all. Even the special smell of the waiting room floors work as a time machine of sorts. Cow dung and Sweet Caporals.
The last train to the city leaves early in the evening but by September it's already dark and the place is lit up like Christmas as two or three couples stand waiting. The mornings are busy, the rush at around six is routine but the return of an almost empty coach at nearly nine o'clock doesn't make sense. Much better to maintain that single coach here and ship it out in the morning and back at night but that's not my decision.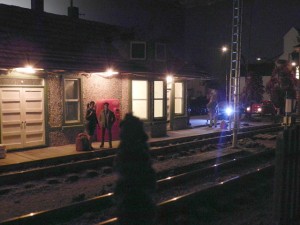 I often wonder what she's doing now. Is she starving? Well, no. I expect not. She's to bright for that but it was her dream to take a shot at a job in Switzerland and so she followed her dream. This is the platform where she said her good-by's and so it always congers up memories for me.
On this night there are a gang of teenagers seeing someone off to school so there will be a small but noisy crowd and that's nice. A station platform should be a noise bustling place after all.
---
So I wondered down to the far end of the platform to watch the show from a respectful distance and the four of them seem to be waiting for a car because they keep checking down the street and looking at the time. At least on of them looks worried so I decide to butt gently into their fun.
I ask a pretty lady named Jean if they're waiting for someone else and yes, they were. Her brother is off to an apprenticeship tonight and he and his 'friends' (her quotations) are having a last quick one at the Highball. It's an ugly old bar. A throwback from a day when it was the only place in town and best hidden from passers by. Dim, covered windows and a gallon jar of picked eggs on the menu.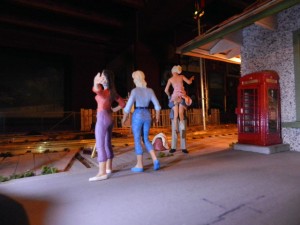 I told her who I was and said the train won't leave with out him. They never leave without anyone and on this occasion I would wonder over to the pub and see that her brother got to the station in one piece. Even if I had to call a cab to get him there. Getting him on the train was their job.
She laughed and felt assured and joined her friends. There was really plenty of time anyhow. A half-hour for sure and maybe a few minutes more if there was a not unusual issue with steam.
---
And just about then a scream seemed to signal all was well with the brother.
A couple of young business types were moving baggage around at the far end of the platform accompanied by a dog, an eight year old, a grandma (I'm guessing) and a relatively sober relative. The good Samaritans had picked up the kid along with his 'whole life in a bag' down the road a way and offered a lift. It's a small town thing I guess.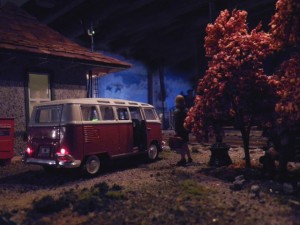 And now as it approached 9:30 even I was getting a little anxious. I knew the ½ hour wasn't unusual but still.
A single bright light shining on the trees made the fall colours seem even more brilliant than the day. And it brightened me. Jean and big brother would be happy at the way it all ended too.