The tracks that served a unique and beautiful passenger station are long gone as are the engine facilities and the spider web of service to packinghouses, warehouses and mills.  Only recently the yards were reduced even further and rebuilt to service the last sawmill in town, a rip track/scrap yard and SunRype Products.
It continues to amaze that Kelowna City Council pushes for the remaining roadbed to be turned into a walking and biking corridor to serve that tiny segment of the tax paying population while transferring many more heavy trucks onto the over crowded highways.  Of course highways are free right?  And they repair themselves.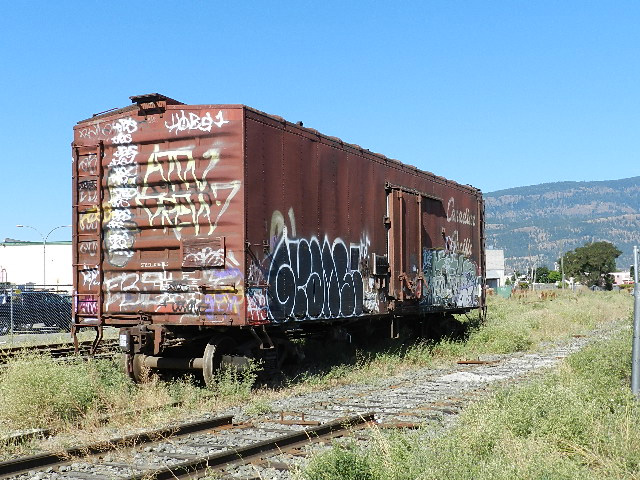 There are many HO scale graffiti decals available now but the scale is pretty much left to your imagination.  This one for example….
http://www.modeltrainstuff.com/Blair-Line-HO-2258-Graffiti-Decals-Set-9-p/bln-2258.htm
…is one of the type that a person can cut and paste just about anywhere you want.  You could 'decorate' the side dark, less than notable of a building or an old wooden fence.  Even the bottom of a long-standing billboard.  But you have to be careful of the 'date' if you're using these on railcars.  They were recognized as a scourge in the US a good 10 –15 years before they showed up in Canada in the numbers they do now.  Even then, many Canadian cars stayed graffiti free until CN and CP began to operate extensively south of the border.