The Rocky Mountaineer is everywhere I go. There may even be a song title there but for a once a day railroad it sure follows me about. It had been at Craigellachie the previous day just as drove by.
My first experience with it, apart from the nice brochures and the seasonal full-page newspaper ads, was at Cisco Bridge. As I lined up for a picture of a freight exiting a tunnel, crossing Canadian Pacific's bridge and moving under the great CN arch, the Rocky Mountaineer moved out over the arch and stopped, giving hundreds of lucky passengers a great view of the track and the train below.
It was all stage managed of course. The CP freight stopped and hid south of the tunnel only to appear, all horns, bells and smoke, on the signal from the crew above. A really nice thing indeed.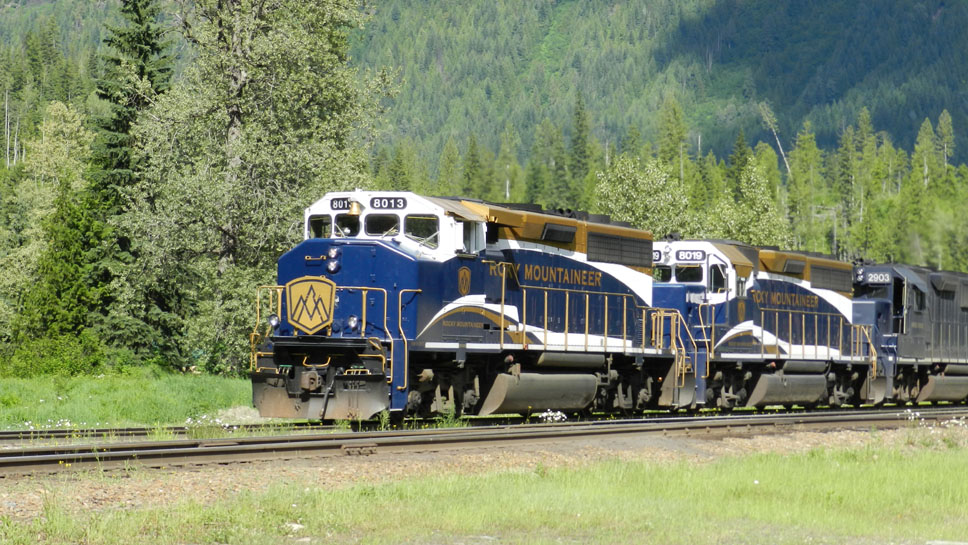 At that time I wrote something for the Winter Valley Facebook pages about how I wasn't enamored by the tacky commercial paint job and how I could tell a real railway man had no hand in developing that monstrosity. I haven't changed my mind.
It is good to see those great engines at work though. When those safety cabs were introduced in the famous CN 'stripes' scheme you could tell some thought had gone into the announcement. The point was being made about the cab design but the publicity was enhanced by the modern, forward-looking design.