On tracks recently inhabited by a huge bear another stack train brakes down hill into Albert Canyon.   The sound from these is completely different. Best described as a single note high pitch scream backed up by a mechanical chorus and a Stanley Steamer. Anyway, there's no mistaking what it is and it flies by my cabin at night – about every 45 minutes.
The 'down' rails are extremely warned down. There's a healthy layer of quarter sized flakes of steel peeling off the side. That destruction stretches from at least a kilometer up the hill from here to well past the Y and the bridges. I expect that rail will be serviced pretty quickly.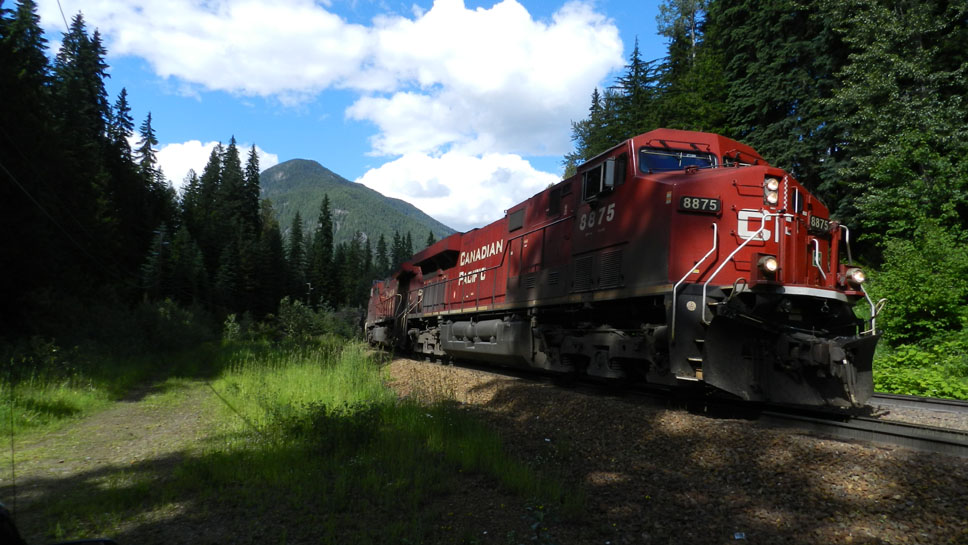 I haven't covered it all. There's more for you to explore and you don't actually have to stay at the hot springs to watch trains in a truly beautiful setting. You can exit the highway and drive right down through the camp ground to the trackside tool and speeder shed.  If you park you car and walk west, over the bridge a little ways, on a narrow, though quite passable, gravel road your sure to find new photo locations with really spectacular backdrops.
Or you can go east past this location. I don't know how far that small un-serviced road on the left goes but it's bear country so I will remain forever unknowing about that.   It's yours to discover as they say.
I might see you there.