Highway 40 stretches west of Biggar Saskatchewan to the Alberta border where it turns into 14 through Wainwright and then on to Edmonton.  I wanted to photograph the CN main line here, and now, for two reasons.  One was the knowledge that small town Prairie is fast becoming history and September is just about guaranteed warm and bright with cool nights that keep down the mosquitoes.  Well, right!  It was all a spotty, big drops wet that wasn't bad enough for shelter yet it still spoiled a day in the open.
The days in Biggar had been covered pretty well with lots of modern, high-power east and west.  Mostly Wal-Mart trains with enough merchandise freights mixed in to make you want to stick around for the next one.  All stationary trains pointed west.  Waiting.  Check out https://wvrr.ca/prototype/photo_148.htm .  Now I just wanted to find the Oban CNR/CPR crossing Tower still noted prominently on my handy Government of Saskatchewan survey map.
Well, nothing.  This photo shows what's left of the CNR right-of-way that branched off north and west of the old siding next to highway 40.  This same view is available in Google Maps and there is even a nice picture of the tower I was looking for ½ mile away.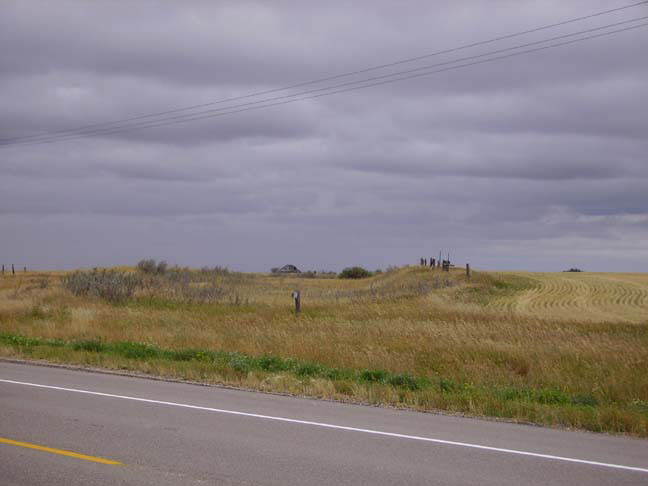 So what have you done to model an abandoned rail line or siding?
I didn't spend much time wandering around taking pictures in wet, waist high grass but I can tell you they took up the rails, as light as they were, left some old ties behind (in place and on the side) and there was some shapeless concrete near the old CNR/CPR crossing.  The right-of-way itself is well grown over but still easily identified by the wild grasses and the grades cut through the rolling landscape.   Fence posts here and there mark the property lines even after all these years.  Wonder how long is takes to sell it back to the neighbours.