Those Beautiful Streamliners
I think I'll speak to my MP. See if he'll put forward a privet members bill making it mandatory for all diesel locomotives in Canada to look like these ones. It may not go far but…..
You don't see a lot of them any more and none at all around these parts. Haven't for many years. Are they still running down east? There maybe a few still up north, I don't know, but here are some from the past, still catching your eye if even just in a photo.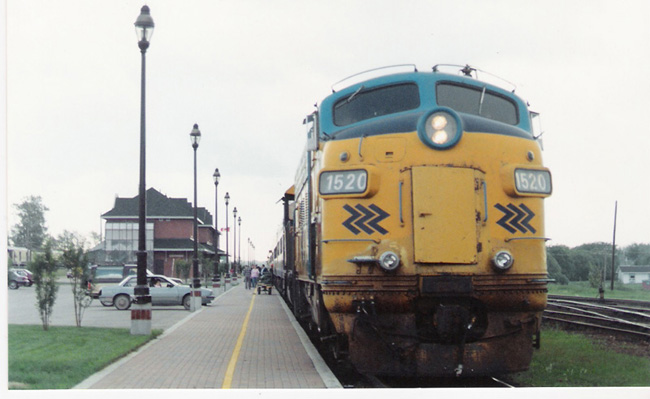 Ontario Northland's 1520 at Cochrane Ontario
Way back in the summer of 1994 when I took leave of the RCAF following a long and very satisfying career, Bev and I decided this was a great opportunity to see the real country once again rather than just follow the well-beaten path or simply take the plane.
\Out of Goose Bay Labrador, we hit all our old haunts.  Greenwood NS, Chatham NB, Parent PQ, Trenton, Clinton and Cochran Ontario.  Cochran was a 'must' because they still had a scheduled passenger service and Highway 11 took us through a lot of our Pinetree Station country.
Something to notice here apart from the "way to busy" ONR paint scheme is the fact that the Cochrane station platform still exceeds the length of the train even though the train is of a respectable length.  And it's clean and well maintained from end to end.  Grass is green and trimmed and trees are planted and in good shape.  I expect that's a GP38 in that consist.  ONR had no qualms about mixing things up for passenger service.