The CN facility in Biggar Saskatchewan is worth a visit. The big city facilities in Saskatoon and Regina, and even Moose Jaw, are very large and well cordoned off making them pretty much inaccessible to the average train buff. Restrict your touring to Melville, Swift Current, Wayburn and Estevan and you can still get up close and dirty without straying onto privet property and catching the eye of the Security folks. Biggar offers a nice 'Y' that was used as late as a few years back, a rare abandoned 18-stall roundhouse and a public road follows the south side of the main line for the full extent of the yard. See Google Map at…..
http://maps.google.com/?ll=52.05483,-107.99373&z=15&t=h
Efforts are underway to save the 100-year-old roundhouse and should good sense prevail it will be one of the very few left standing, unchanged, in North America. You can check out some photos and perhaps offer your support at…..
http://biggarencyclopaedia.wetpaint.com/page/Canadian+National+Railway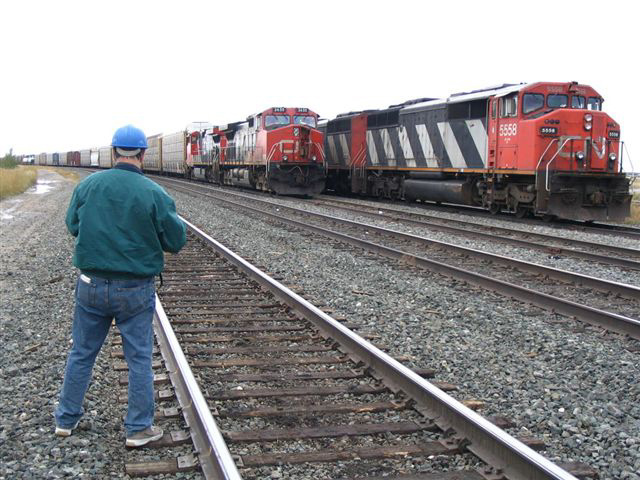 Hard hats, hi-viz vests, steel boots and a pass are the required apparel when taking train pics in these parts.  Today the hat just keeps the rain off my thinning hair and we work out of the grade crossing at the west end of town.
Why DCC is a good thing.  Mile long trains line up and they wait their turn.  This block of time was being used by stack trains from China.  See the products at your local Wal-Mart.