The small yard in Didsbury consists of the main line and two long sidings that pretty much stretch, north – south, from one end of town to the other as well as a short spur used mostly for MofW equipment.    On this day the second track was home for two old timers waiting work.  3029 sports a variation of a rather old paint scheme with a small multimark, black/white stripes all the way up the back end and 6 white stripes on the low nose.  Number 3031 sports IMHO the last greatest paint job after the maroon and gray.  Sadly, it didn't last long.  So yes, you can confidently mix schemes that are 30 years apart.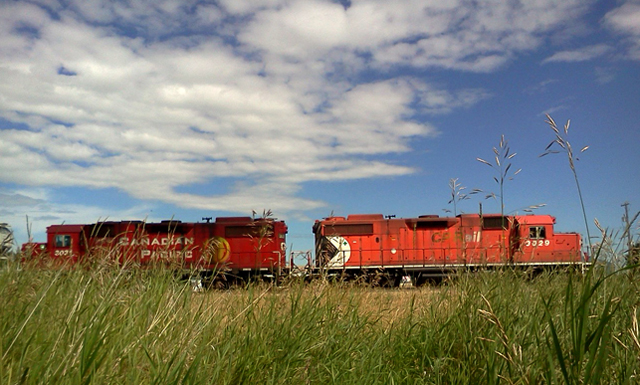 The whole yard in Didsbury has grown over with tall grass and weeds.  It doesn't resemble at all what you might expect a yard to look like that sees 25 – 30 trains a day.  The few bare, earthy spots have obviously been used for single car loading of some kind.  Likely hoppers or maybe even a boxcar.  The foundation outlines of at least two wooden grain elevators still remain on the site.  Reminders of a past long gone.    The wonderful Didsbury station became a town's community and activity center.
Smaller prairie towns with busy tracks are fewer and farther between now.  Schools close, stations close, elevators are moved or are torn down.  Homes that won't sell are boarded up and towns die.  But if you keep to main lines and seek out the larger communities you won't come away disappointed.