A short trip to the Cisco Bridges in BC's Fraser Canyon
For those unfamiliar, the Cisco Bridges (Canadian Pacific's lower truss and the Canadian National's upper steel arch) span the Fraser River in a rocky narrowing of the canyon approximately 12 Km south of Lytton BC on the Trans Canada Highway and just a few meters north of Siska Creek.  A very small sign at a rest stop identifies Cisco Siding.  Nothing else.  It's a secret I guess.  Anyway, I can't say it better than http://en.wikipedia.org/wiki/Cisco_Bridges
Viewers can park their car at the rest stop on the northbound side of the highway and walk across the road or, if your car is up to a climb on loose gravel, you can drive down the narrow, but well maintained, lane shown on the left of the photo.  You can park in a flat, open area on the near side of the CN tracks.  Just keep your car, and yourself, very well clear of the tracks.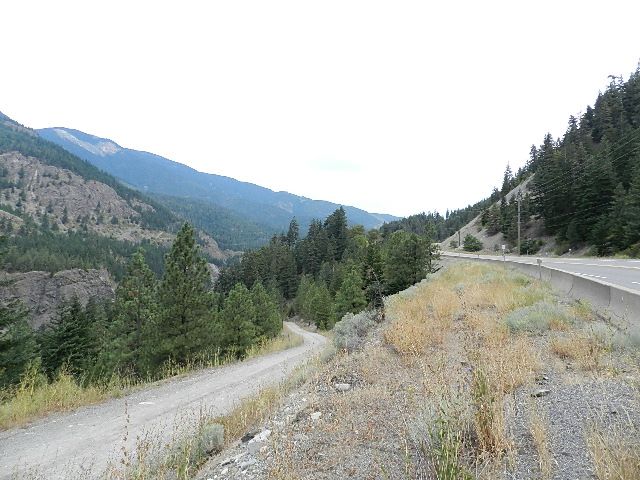 The siding access road is about 250 meters long and takes you down about 30 meters.  Access to the foot of the CN bridge is gained by a maintenance road, across the siding and running north for about ½ a Km. Once there, a very narrow lane 150 meters long on the left will lead you down another 30 meters to the level of the CP main line.  You will be standing under the east end of the CN's bridge as it curves gently towards the south.  All my distances are Googled but pretty close.
I don't recommend you drive beyond the CN siding.  There is very little room to turn around.  Walk.  Leave the driving to the CN and CP people.