And away from Regina for the last photo. 
A trip to Melville is well worth the drive from anywhere in SK or even western MB.  There are/were lots of local switchers and big road engines on hand and plenty of action coming and going.  On the day I was there the west bound Canadian showed up during daylight hours.    Sorry.  No pictures.  Just a passenger train after all.  😉
These GMD1's were dressed to kill.  1400, 1409 and 1414.  It was the first time I had seen this paint scheme and I had some mixed feelings about it all.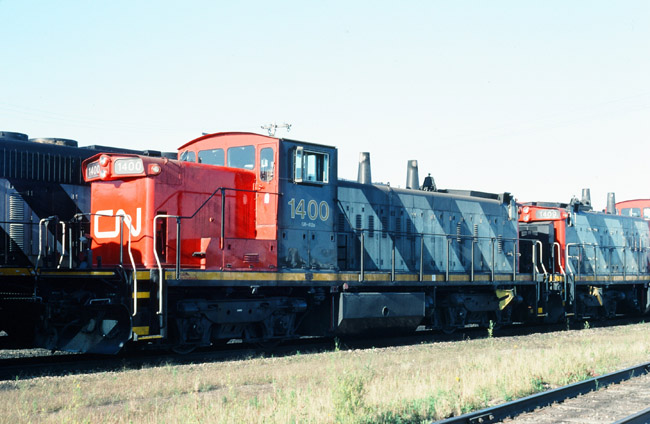 The stripes were after all my favourate application.  A world-class inspiration now gone by the wayside in the name of 'marketing' for God's sake.  On the + side as well, the yellow rerailers hung down over the trucks as they should be and the extended cab window would keep the engineer warm during winter weather switching moves.  Was it the other side as well?
I was of course less enthusiastic about the lack of spark arrestors, as I already pointed out, and what was it with those odd road numbers on the cabs?  For high visibility?  I don't think it lasted a long time but others would know for sure.
So there you go Jason.  Looking forward to this fall.