Story time.
I have a favourate place for taking photos in the Thompson Canyon.  There is a rest stop off the westbound lanes 14km south of Spences Bridge.  Give or take 'cause SB itself snakes along the river.  Easy to get at for me.  The Connector from Peachland and then Hwy 8.  Both great roads in their own way.
On this day, around 10:00, there was nothing going on and it was already as hot as the very hubs of Hell.  Normal.  So I decided to visit Cisco Siding before heading back to the Okanagan – and Lytton has a good deli on Main St.  The fresh made peach pie and whipped cream is something else.
As soon as I stopped the car down on the siding level I could hear a train approaching.  The headlights were twinkling through the trees as it made it's way up the west wall of the canyon on CP tracks.   It was a long and heavy CN container train with Christmas junk from China.  I had a perfect shot from just above the bridge but it slowed to a stop behind the cliff face at the tunnel's south portal.  Why?  There's nothing there.  No lights.  No sidings.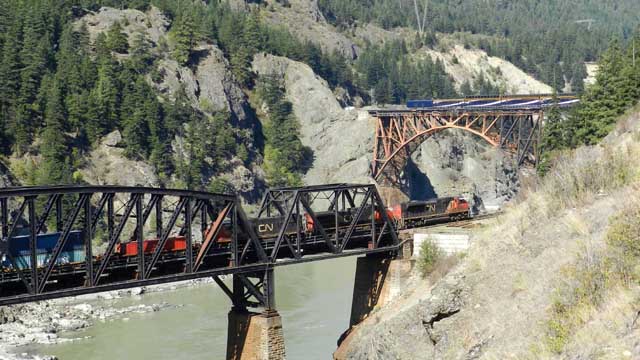 Just then another train sound upstream.  More lights high on the west side.  A train heading south on the CN main line and approaching the big arch.  Great timing I'd say.  If that freight below me got a move on.  Then as soon as the new arrival peeked around the cliff I could see it was the Rocky Mountaineer with a long string of coaches all decked out on that horrible (sorry) non-train paint scheme.  Still, a rare opportunity for that calendar shot.
It was stopping as well and no sooner had both engines reached the south end of the bridge than the CN freight came to life below, all smoke and noise and horns blasting away.  It roared out of the tunnel, onto the lower bridge, and under the arch as a thousand and one cameras went to work above.  Wow! What a show.