January 2014
The Family Album
Photos by Friedhelm Weidelich
In early 2005 I had the pleasure of being visited by Friedhelm Weidelich on behalf of the glossy German model railway magazine Gartenbahm profi.Friedhelm is an excellent model photographer, a fine writer and he has a deep background in the European garden railway world.  His publication is read and respected widely throughout Europe, despite a cover price that would see might most North Americans glance at it dreamingly and put it back on the shelf.  What's more he was great fun to talk to as he and a helper took many, many photos around the layout for the 2/2005 issue.
Now, as a result of his latest endeavors he came across a dozen or more unpublished photos and sent them off to me.  It was great to look back in time a little but even better for me to pass some of them along to you in what I will call "The Family Album" of high quality, professional pictures.  Open them up wide and have a closer look.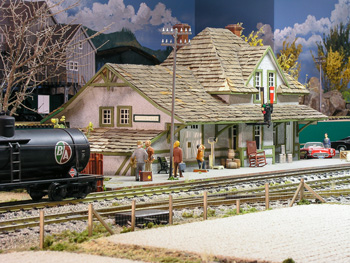 Click on photo for enlargement
My pride and joy is the CNoR 3rd Class Depot at Winter Valley.  The princess has a new convertible now, and new clothes too, but she still hangs out at the station.  Telegraph lines are also strung all around town making 1975 communications much easier – but making layout repairs much more difficult.
            Never did find a British American tank car so I did my own.  First thing I remember about my Dad was seeing him in his BA coveralls.
---
Taken from the top of the diesel house at the Co-op grain elevator.
Once again you can see that the wires had not been strung all around the layout.  It looks naked without them.  I 'm glad I spent the time and effort to do that.  The 'wires' are made of buttonhole thread sold in 1000-foot lengths for around $7.00.  What's great about them as well is that they don't seem to attract dust and get 'fuzzy' looking.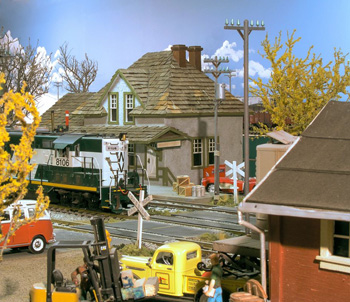 Click on photo for enlargement
I have attached small  plugs to most of the vehicles on the layout now so they can be moved around from time to time.  One of these days I'll ask my friend John to replace all the old lamps he installed years ago with LEDs so I have more freedom of movement.  The old lamps are connected to a 12VDC buss under the layout.  The LEDs use 3 VDC.
---
This scene always attracts attention as visitors come down the stairs.  The Busy Main St. and the bike shop are on their left but the non-activity in the back lot gets all the attention.
That sunny space is resplendent with my favourate old car, some steel thingy's from the oil patch, rolls of cable from some long forgotten hydro project, a creaky picnic table complete with a couple of old pharts and a third or forth generation of cats.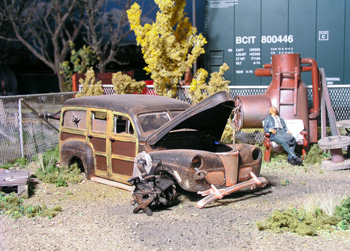 Click on photo for enlargement
When I built this I was going for an effect.
My childhood was surrounded with stinky old cars cooking under a blazing summer sun.  Dad never had a new car in his life although we surely could have afforded one what with Mom working full time.  He would rather have used some piece of traded in junk from the car lot.  The sales guy would come into Dad and say, "You should take a look at this Murray.  We just took it in on trade and it has some miles left on it."
Dad would drive it until it stopped and the garage would haul it away.  Next day = different rust bucket in the driveway.   I learned to drive on a '32 Chevy.  Logging roads.  Four on the floor.
---
I played football in school.  It was perhaps the only thing I did well.  Had I been born in the states I might have enjoyed school more.  Even then the high school I visited in Modesto California had a football stadium bigger than the whole city of Kelowna.   The only kids who were well supported here were girls and the very best of them were wrapped up in the yearbook committee. Many went on to be teachers themselves because they just couldn't leave.
But I talked my Mom into buying me a school jacket anyway.  It was a huge expense for her at the time.  Nearly a week's wages.   Reversible.  Black on one side with gold stripes and turned inside out, brilliant gold with black stripes.  I looked the part even if my heart wasn't in it.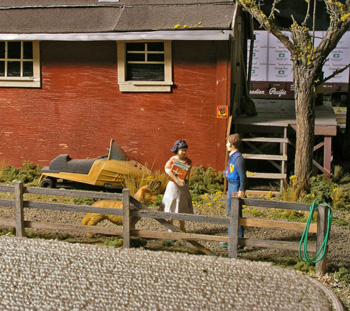 Click on photo for enlargement
So I built this scene where a football player is meeting his girlfriend behind the freight shed after school.  My girlfriend went to a different high school about 15 miles away so there was no walking.  No meetings.  But she had a car so it was good.
There is a dearth of quality accessories for large-scale layouts.  Anywhere.  What's more, the vast majority of items that are available are designed for the early steam era.  But not everyone likes hobos, jolly fat conductors and engines with wiggly bits cranking away on the side.  Don't get me started.  I have to stumble across appropriate fridge magnets just to get things for the station platform or the storefront.
---
So when I needed a portable auger, of which tens of thousands are found throughout North America, there was nothing to be had in kit form or off the shelf.  My only option was to head into town with an old yardstick and take a few good photos down at the team track.  In the end I produced a reasonable facsimile out of plastic sheet and shapes.  It "looks" like it might work and that was the goal.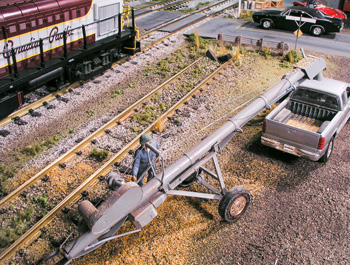 Click on photo for enlargement
These pictures are old.  The RS3 was the first G scale engine I saw working in a hobby shop and the first one I bought.  It always ran well and before long I added a few details that made it more CPR like; bell, horns, rerailers, a winterization hatch and canvas draped over the front, but it was an orphan among my growing collection of USA Trains products.   All of these were highly detailed, ran great and their prototypes were everywhere on the Canadian prairie.
It sold quickly and I'm sure it is still making someone happy.  Aristocraft is gone now so maybe it was some sort of premonition.
---
This goes back a way as well.  I have pretty much finished the line of scenery in the background by hiding the track and blending it into the background trees and patchy snow..
The original thoughts for this country location involved having a large open space with a raised gravel road and a quiet crossing.  A telephone pole or two, some broken fencing and an area of rolling grassland would sum up the quiet.  Perhaps I would drop in a couple of noisy crickets and a grasshopper.
My modelling friend John lost no time in telling me the large 'empty' area was boring and those reminders went on for a couple of years.  "People don't want to see nothing." he said, "They want action, lights, story telling."  I told him that wasn't 'natural' and I was attempting to model a realistic prairie scene.
Well, you can see where that conversation went.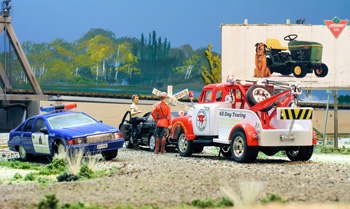 Click on photo for enlargement
All of the lights on the cruiser work.  Headlights, tail lights, fog lights and overhead lights all flash independently.  The lights on tow truck all flash, as do the trouble lights on the stalled car.  It's a Christmas tree explosion. 
            People love it so what do I know?
---
Not all of the open fields east of town are set aside for grazing.  A little farther away, where the low rolling hills give way to the park's pine forests, the pioneers of Winter Valley set the community cemetery.   It was a multi-denominational plot of ground right from the beginning.  Of course back then; around the turn of the last century, those kinds of openhearted decisions were easy to come by.  It was simply a catholic town. There were settlers from Eastern Europe mostly with a few Protestants thrown in who didn't much care either way.  There were no coloured people.  No Jews.  No Moslems.  Not within a hundred miles anyway.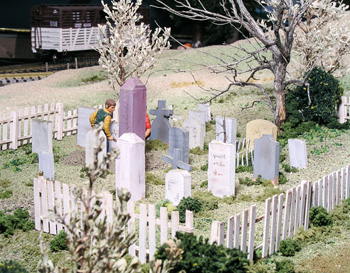 Click on photo for enlargement
For a short while there it was feared the town might run out of space up there as the townsfolk aged.  Discussions were begun to buy another ¼ acre next door.  The negotiations outlasted the need, as is often the case.  Older residents began moving into the city to be with family or to just find themselves a smaller place.  The farm was behind them.
I know there are two large spiders buried under a stone here though.  I think it was the grayish one at the right.  They were found populating the dead tree at the back so it's fitting they should stay close by for eternity.
---
The Railway Superintendents job came with perks.  Besides the obvious issues of pay there were social benefits as well.  When you walked into a shop you were greeted by name, or simply Sir.  You were invited to all of the bake sales and most weddings.
But at the same time, you could never seen without a tie and stiff collar even when heavy work was to be done.  If a tractor was broken down in the mud you climbed in there, best shoes and all, and you still had them clean and shining the next day.  And unless your wife was giving birth that very morning you didn't miss a single Sunday at church.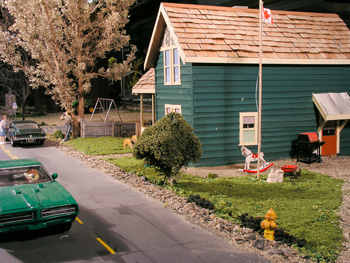 Click on photo for enlargement
The Supervisors most obvious benefit was his house.  Just down Station Street and across the park was a fine two-story home.  There were three bedrooms, a big bathroom, a laundry room, a large country kitchen and a formal dinning room and a fireplace.  Oh, and he needed the fireplace.
In the few areas where the house was insulated it had been insulated with sawdust. Vapor barrier was unknown.  The sawdust got damp and heavy and packed itself down near the floor.  And froze.  Timbers warped and cracks appeared in the corners and around the single pane windows.  Frost lines were easy to see around all the outside walls except near the stove.  The stove was a popular place.
---
This one has me thinking I should be getting ready for work instead of looking through old photos at breakfast.
It also has me thinking that not much changes around here.  It's been over 10 years since that picture was taken and before next week Number 34 will be backed into the shop, just like this, in preparation for the January through March plowing season.  Fortunately she found little work last year so she is in great shape for a girl her age and that frees up the budget a little.  Perhaps some cosmetics this year and we can get that damn old stove replaced at last..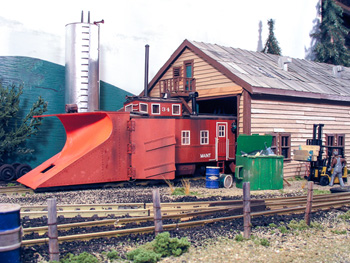 Click on photo for enlargement
The truth is, this plough is 'scenery' around here because it won't negotiate the layout.  The wheelbase is not an issue.  It's just an old caboose after all.  That plough simply swings far too wide on the curves.
There was a nice blade pattern published as an insert in Garden Railways Magazine some years ago and I had an old Aristo caboose that I didn't like and I couldn't sell.  It turned out quite good I think and visitors always comment on it so it hangs around like the kid who won't leave home.
Anyway, off to work
---
One more before I go.  One of my favourites.
Artists have many views on what constitutes a prairie scene in Canada and there are indeed plenty of awe inspiring pictures to hold your gaze but I remember old snow fences, dirt roads, cross bucks, pick-up trucks and rusting cars.   All things seldom seen amongst the sunsets and majestic snow capped peaks.
So what is it about hanging on to junk cars and rusted farm machinery anyway?  I once thought it was a prairie thing.  A carry over from when farming was a gamble often gone bad.   Now I know that isn't the case.  They still line their junk up against the back fence, take out the battery and hang the soon forgotten keys on a hook in the kitchen.  A dozen or more old trucks from 1955 to 1995 all waiting for that someone who 'needs just that part' for some another old machine.  No one ever comes.  No one ever asks.  Their junk is lined up too.

Click on photo for enlargement
This broad scene fills a large corner of Grande Prairie between the elevators and the car shop.  Few visitors notice it and that is how it should be.  Too quiet. Too ordinary. The dusty road is there, the cross bucks, the pickup and the snow fence long past easy repair.  The Chevy has been well picked over but perhaps it's worth a stop – and – look.
I worry about my feral cat.  He didn't come to see me this morning and he's never late.  Food is there but there are no tracks in the snow.  Perhaps when I get home.
---
See you all at www.mylargescale.com