January 2015
Working Winter Valley
The sun gets up suddenly and in it's full regalia in Winter Valley.  It quietly creeps up behind the hills and then 'bang' it's daytime and life below is buzzing around in every which direction.  Down at the station we prefer some order in all things.  Trains arrive, drop off cars, pick up cars and leave.  It is hoped, safely and efficiently.
During this morning's business our favourate F7A and her sister "B" were in town having dropped of a pair of tank cars for our distribution.  One 'heavy' destined to the cement plant in Hudson and one empty and looking for Canola oil being shipped to the coast.
A westbound GP38-2 is heading home to CN this morning after serving with us through the worst of the harvest season.  Not unusual because we simply don't own enough power to work the September –  November rush and it would be hugely unprofitable to have our own engines sit idol for 9 months a year.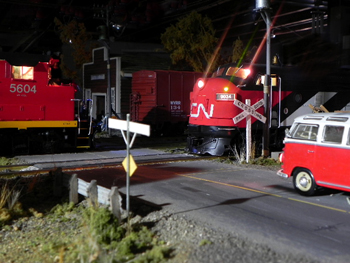 Click on photo for enlargement
So I'd better get to work myself if I'm to sort out the movements that keep the in box and the out box in harmony. As the new sun reflects nicely on the tools of my trade I park the car and I'm wondering who in the world has a better job in a better place at a better time?
---
The cars in question had been nicely split up for us.  Perhaps not through kindness but rather as a result of poor consist building in Edmonton.   But no matter.  It saved a little work at our end 'couse we can squeeze a geep in there right away and move the Procor out to a siding along with an empty Rail Box for a US owner.
As is most often the case with American owned cars, the big yellow ans black came with machinery used in the oil patch.  One of these days, if the price can be maintained at about $40.00 a barrel, the Winter Valley area will see a real boom in the oil exploration business.  No one but the most optimistic sees it ever replacing the agriculture and forest industries though.  Time will tell.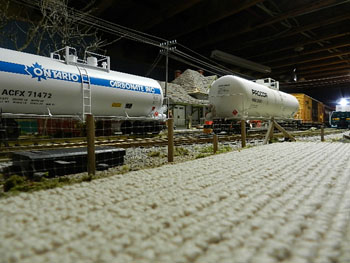 Click on photo for enlargement
A distant reflection of lights on the tracks announces the arrival of our own 8100 and the start of our business day.  She will run around the station track and back over 2nd Street holding up traffic for a few minutes as the crew makes switches and waits for kids to cross into the park on their way to school.
They'll hook up and pull the full Carbonate car out of the way; set it aside on the main line and take charge of the 50 foot tank car listed for Vancouver, squeeze by and then return the heavy car to a siding.
---
The Procor cars were newest variety of tank cars.  "Modern" they were called and they had all the extra safety features expected of a modern freight car even if they were never instanced to move hazardous material.  This 20,000 gal car weighs in a around 190,000 pounds when full and has a special non-stick inner lining that easy to keep clean but the cleaning crew has to wear special clothing on the inside so as not to scratch the surface.
We won't have to worry about that here.  We'll only be dealing with the outside and our guys are pretty gentle.  They'll move it up to the east end of the yard and have it sit there until the next freight going west.  Seems odd but that's just the most efficient way to move cars in the Winter Valley yard.  Space is a premium.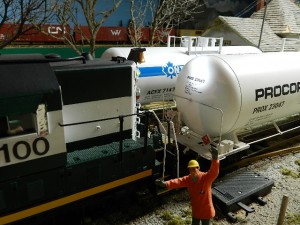 Click on photo for enlargement
Jack is handling the work on the ground this morning so he's dressed for the job.  It's not that he drew the short straw or anything.  He's simply rotating through the tasks at hand and we all do it.  Rookies working the summer as well as so called office staff such as myself.  As railroaders we just want to be railroading.  The weather or the time of day is not an issue.
It's actually not going to take long to clean up the mornings work and prepare the list for the afternoon.  There will be through trains to and from Hudson and Grande Prairie but all we will do for them here is offer a clear main line when they need it.
---
The 8100 is moving out of Winter Valley on it's way to Hudson and a few intermediate stops for grain car and a load of cement and lumber for a big job of some kind being done at Fox Creek.  Again, probably oil related.  There is also a late shipment of a big diesel engine to take care of.  It will be good to see that car gone.  We had to pull it from the train a few days back and secure the load.  Right now it's sitting at the warehouse getting in the way of Helmut and his gang.
Anyway, right now Jack will get some time with hot coffee and his lunch.  By early afternoon we will be working the westbound list and he'll be busy outside again.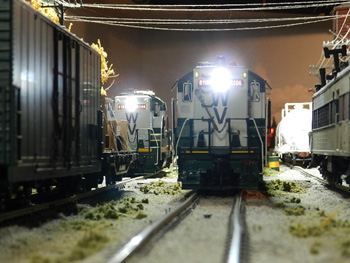 Click on photo for enlargement
Once in a while the yard at Winter Valley gets really jammed up.  Not often but more than in the past.  When I first got here it wasn't uncommon to see the largest part of it empty save for a bad order car.  When grain wasn't being moved nothing was being moved.  Oil brought with it a mini building boom and that was reflected in our traffic.
A quick look around today and we will find cars from Ontario Northland, British Columbia Railway, Algoma Central and even a stray TB&H boxcar.  The world is truly at our doorstep.
---
Back at work again, Jack is putting together his train and setting it out on our westbound track.  He just called in.  The NAR car will have to undergo a minor repair before it leaves so once it's in place I'll send a crew out there to spot weld the door closed.
It had arrived from Winnipeg with the latch ripped off and one of the doors sliding free.   This was not railway related damage.  Someone had been looking for something.  Whether or not they found it would have to be determined on delivery.  Our job will be just to see it gets there.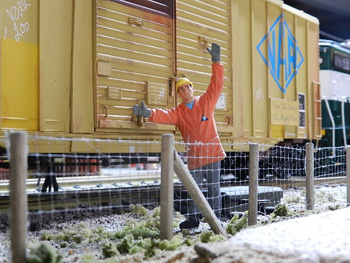 Click on photo for enlargement
I think boxcars like this are on their way out.  At a slower time perhaps it was economical for railroads to own and maintain a vast fleet of general-purpose boxes but I can't see that being the case in the future.  True enough, it's fine to see your railways logo splashed around North America but how good does it look if the car is a graffiti covered pile of junk on wheels.
Now an increasing portion of our freight is moving to and from Asia.  Our billboard boxes don't go there and no one will be trans loading them at the dock.  I think you'll see a lot more containers around here in the future.
---
When I first moved into town I lived in a small hotel while I looked through the papers for something more.   I didn't know anyone outside of work except for Eddy, the kid who came by every morning and washed the ashtrays and swept the floor in the bar.  He noticed me looking for rental places and suggested I might speak to his granddad.    It's that kind of a small town.
And Grandpa Helmut is a bit of a curmudgeon.  Well, more than a bit perhaps but I immediately looked passed his 'ways' into a really great apartment, close to work and at less than I expected to pay.  I stayed there for three years only moving out when decided to buy a house and settle in.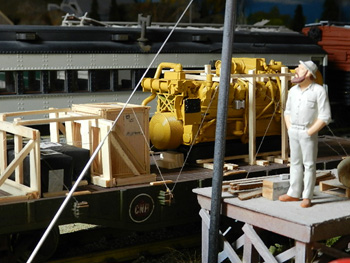 Click on photo for enlargement
Helmut was the manager of the Winter Valley warehouse so during those years, and all the years there after, we worked so sees that his siding was used as he expected.  The relationship then was such that we might impose on his good will from time to time.
Such was this time.  We had used his workplace to block and tie down a diesel engine for trans-shipment.  A load he had nothing to do with but he looked away and let us move our equipment in and out of his world without interference.  I'd be sure to have a bottle of rye sent his way this weekend.
---
Not all the action in Winter Valley takes place out in the yard.  The passenger business is still alive if not a hugely profitable department.  Old reliable heavyweight 7210 can still be found waiting for work next to the station every morning or rolling to rest in the evening after it's short trip from the city.  On sunny days like today riders collect on the platform, read the morning paper or just swap family stories.  Everyone knows everyone and everyone's kids.
As perhaps a last bow to the regulars 7210 was dressed up quite a bit for last years Christmas ride and so she looks really nice now.  All clean and bright.  The rich looking blue velour replaced the faded 'railroad' green and there were new carpets and new chrome fixtures.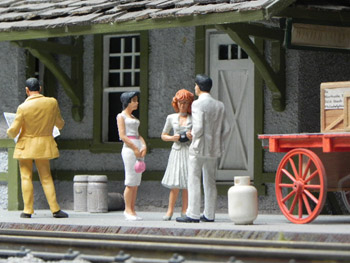 Click on photo for enlargement
That same platform still reminds me of my months with my best friend.  She would often leave the city behind and spend the weekends up here.  We'd often hike through the hills or explore the edges of the river.  On other days we might do nothing.  Just hang out with each other's good company, finger food and a dark beer.  Maybe skiing during the winter, although I was never very good, or being the spare on our station curling team.   But let's face it.  An opportunity to see the world and enjoy a great career was too much to keep her 'down on the farm'.   I would have made the same decision had I been 10 years younger but I'm really home now.
---
Across the tracks from the station the action gets hot and heavy behind the bike shop.  On a really god day it lasts until late at night.  On this fall day it will cool down some as soon as the sun sets so Elvis, his real name, will wake up his older brother and get him home.  Brother Snoozer earned that name in school and it stuck.  And rightly so.  Although a career handyman he can sleep anywhere but when he's asked to get a job done it gets done and gets done right.
Ernie will likely stay behind a while moving inside by the stove to finish the paper and take the last awful cup of coffee before getting the perk ready for the morning.  John doesn't mind and the two of them will be still solving the world's problems when the key is finally turned.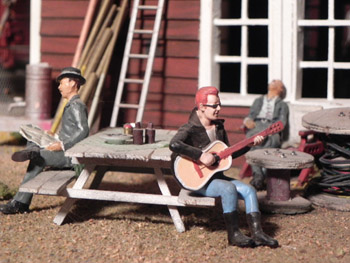 Click on photo for enlargement
Many of you will already know the story behind this old shed of a building but for the newbees out there the bike shop is of some historical significance I guess.  When the railroad came through here there was already a general store and a blacksmith shop at the crossroads in the grass.  The 'place' didn't even have a name.
Over time, the general store became a hotel and burned down and the blacksmith shop ran out of business.  The simple red building sat abandoned for many years before reinventing itself as a machine shop and then, a few years back, a great bike shop and hang out.  The oldest building in town is still alive.
---
See you all at www.mylargescale.com