…and there are stripes all over it.  Wow! Don't you just love the paint scheme?   Often referred to as Sergeants stripes or Zebra stripes this paint scheme was the best result (IMHO) of reinventing the Super Continental back in 1961.  It put a welcome end to the short 6 year experiment with the black and green steam era colours.  Odd though that the colours that failed after only half a decade are on more layouts than the world famous scheme that just celebrated it's 50th anniversary.
Never people to leave will enough alone though, the masterminds that run the CN out of the US decided that the 'stripes' didn't have enough brand presence in the US so they vanished only to be replaced by a variety of previous plans.  The 'map' that looked like peeled paint and then the noodle that was redundant and now the web page.  As if those who are interested in the web page don't already know it and those that aren't interested even care enough to look.
This SD40 ( new in 1970 – 71) was resting at the Western Star assembly plant on Enterprise Way in Kelowna BC.  The factory is gone now and I expect 5152 is as well.  These non –2 models didn't have the staying power that their more modern sisters had and they found homes on other railroads.   Number 5152 was rebuilt and became Helm Leasing 6092 in 1996.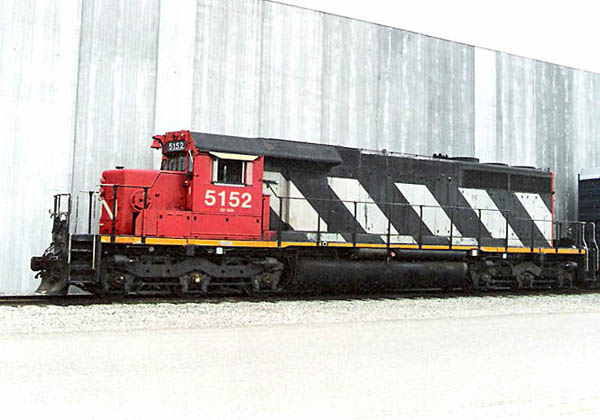 Sadly, this photo was taken after the horn was removed from where it looked best.  Her properly dressed sister, horns and bell, is shown at  http://www.cnrphotos.com/gallery2/main.php?g2_itemId=10155